Video cam technology has come a long way and changes every day. Why not get the best bang for your buck and the system that suits your needs?
This site is operated by people just like you who want to go out and use a cam system that works the best for your particular needs. We strive to keep our opinions fair, objective, to the point and honest.
We do not use sophisticated color gradient charts and technical measuring equipment to do the testing, just my (and your) eye to decide. A real world approach to the testing and review of sportcams.

Update on this website - The sport cam industry is getting VERY crowded. The cams above are only a select few in the now teaming marketplace for sport cams. Due to the overwhelming volume of these cams and my limited time I will be deferring some of my opinions/reviews off site to what I consider good reviews that reflect my own opinion.

The great thing is now the quality is getting very good on almost any cam.... you just need to figure out what features you are looking for :-) Thank you - Brian
So...What's New?... LOTS! (click on image for more info)

Lots of cams on the market!
| | | | |
| --- | --- | --- | --- |
| | | | RePlay XD |
eHelmetCam CamShot Full HD bullet cam and DV recorder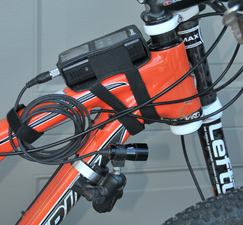 We have been testing the new bullet cam and DVR from eHelmetCam.com for some time now. So far the CamShot results are looking very good with near zero issues with vibration or shock induced "gel" in the video images (an issue with other top "sport cam" contestants).
We are testing the unit frame mounted on a high end "29er" full suspension mountain bike.
With a 6 to 8 hour battery life, more mounting options (due to it's small cam size) and at less than $400 USD this has become my "work horse" for all day activities.
I know the cabling looks a bit much, but really it's just one cable from the cam to the DVR. After you figure out your mounting the operation is a breeze. I used RAM mounts. I had one on my frame and one on my seatpost. It was a one minute operation to switch positions and get a lot more interesting footage.
The smaller size of this cam is really nice. I have been able to get better shots in tighter mounting areas than with other cams. The fact that I get very little "gel" from vibration is a big plus. I used to toss a lot of video with this same mounting with other cams.... I am able to use most of the video I shoot with this system.
For all day adventures this is my only choice... otherwise you will be bringing extra batteries if you use another cam. There are also a bazillion settings for this cam system (contrast, saturation, sharpness etc) most I have not even begun to mess with. Most video was shot in the default mode at full HD.
NO FISH EYE - This is a gigantic plus for me. I have grown very tired of the fish eye/curved horizon effect in most of the cams (The lasted versions of other cams have started to address this). The field of view (FOV) at full HD is about 140 degrees... which I think is about perfect.
I will give this cam a couple dings for a bit of chromatic aberration in the real high contrast and high saturation situations, but very tolerable for a unit this price.
Video samples are HERE (multiple raw clips) and HERE (low-light video).
If you can tolerate a cable and a larger overall system (but with small cam!) and need all day video, this is the unit for you. If you need a super streamlined system, then look at the self contained units.
---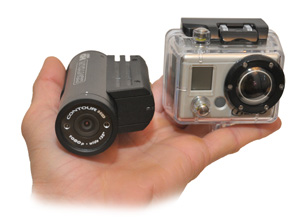 Arguably the two top contenders in the HD sport cam market are the Contour HD 1080p and the Hero GoProHD
Both great units, but which one is best for you? Maybe our review will help you decide before you buy!
---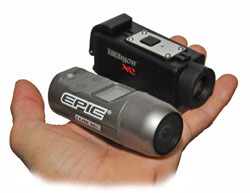 "Micro" cams!
These sport cams are about 20% smaller than other current self contained cam's in this configuration. Handy, light and easy to use... but how do these two stack up against each other? Read on and see!
Epic Stealth vs. Tachyon Micro
Read the review
---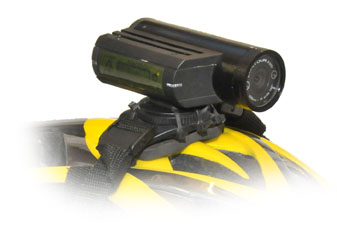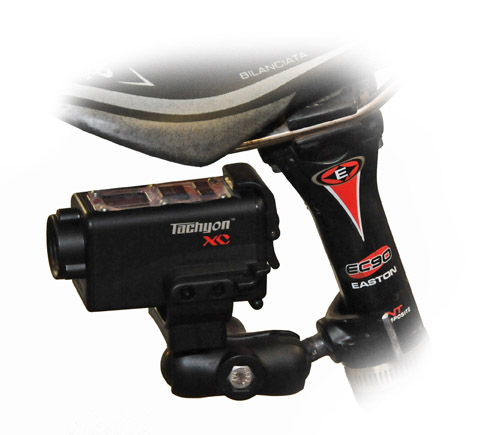 Reviews: the ContourHD and the 2010 Tachyon XC
The sportcam market is red hot!
---
"Self contained helmet cams"
We did side by side tests on these small self contained helmet cams which are
the latest rage in cam technology... small, simple and getting better every day.


Pictured above: Tachyon XC, Hero GoPro, VholdR and
the ATC5K Check out the results HERE.
---
Way cool ACCESSORIES:
The LANC and LANC power saver - the making of a great system.
PROJECT:
What's the SMALLEST mini DV tape camcorder you
can fit in a waterproof case?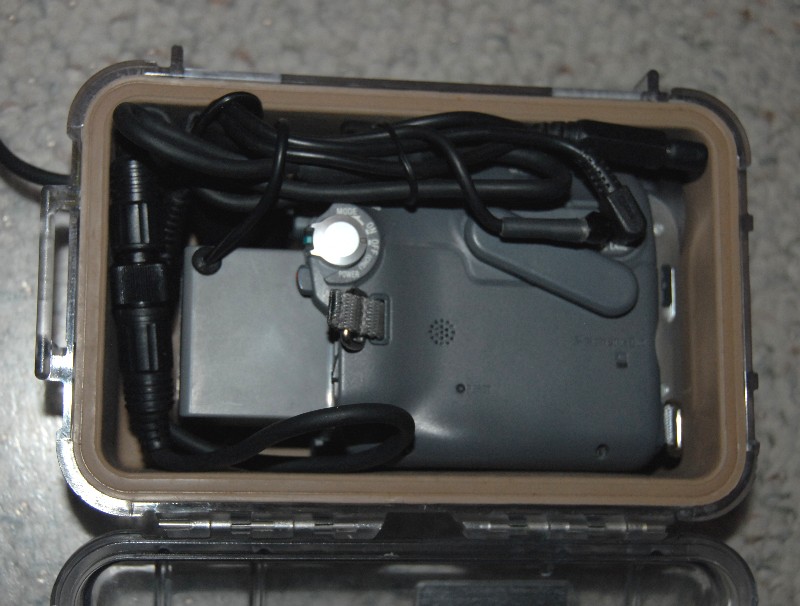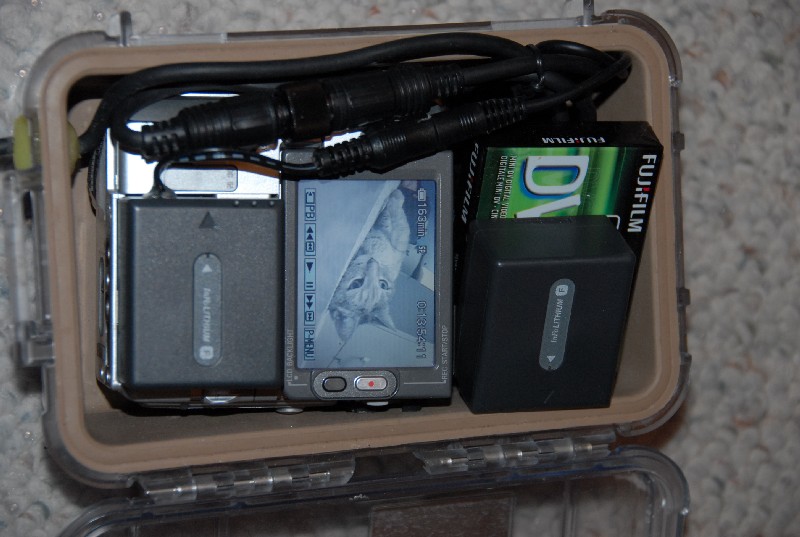 On the left: the Sony HC32, fits nice, but no spare room. On the right, my favorite cam, the Sony DCR-PC109. It's about 1/3 smaller than the HC32... gives me room for spare battery and tape. I had to do a simple mod on the camcorder to make it fit. Go HERE to see how.

---
VIO POV1 vs. VIO Adventure Cam 3
New vs. Old - which is better??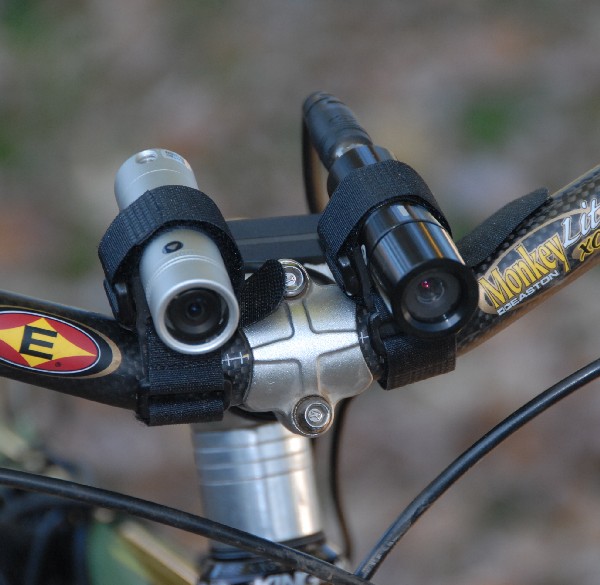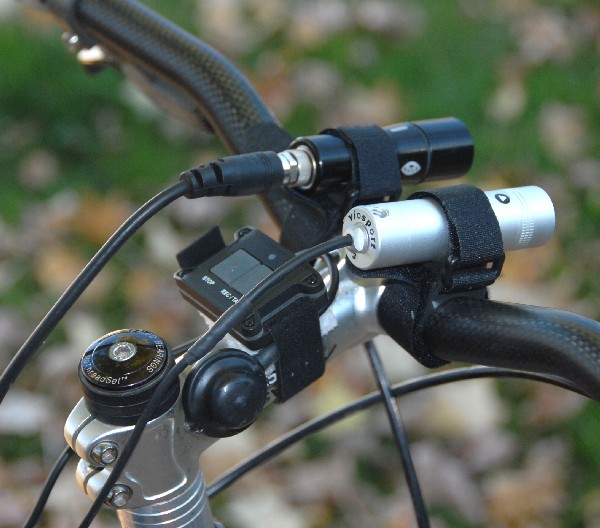 Viosport vs. Viosport??! - you bet!
Viosport (Now called V.I.O.) has changed their name and the direction of their company by the looks of their website. Everything is steering you towards their new POV1. Above are the new POV1 (black) and the Adventure Cam 3 (silver). Side by side, which is better?
(Updated) REVIEW on the V.I.O POV1