Here is another very good looking example of why I think tape-less recording is about to really take off: The soon to be released V.I.O POV1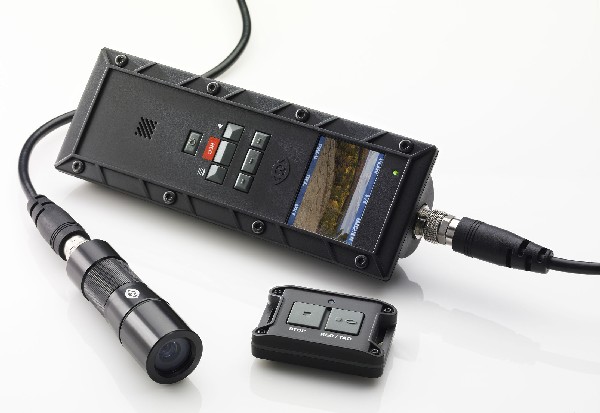 I really don't have anything more to go at this point except the ads and promotions available on the net, the following was sent to me direct from V.I.O
HOWEVER... V.I.O has promised me a unit to test shortly... hold on tight!
Below is a lot of reading... If you want to see their full color brochure in a pdf file (a much easier read) go HERE.
Here is the text of the VIO info:
V.I.O. Advances Point-Of-View Video Technology to a New Standard with the POV.1 Integrated Video System.
The first system to streamline the POV video process and offer waterproof, dustproof and shock-resistant operation.
MARQUETTE, MI -- V.I.O. (formerly Viosport) proudly introduces the industry's first POV video system comprising camera, microphone, recorder, wireless remote, software, and online video distribution in an integrated system. The entire POV.1 weighs less than one pound and the recorder is smaller than most television remote controls. It is wearable, rugged and simple to use.
The POV.1 transforms the process of POV video into a seamless flow from video capture to cut-and-splice editing to online distribution. It is a smooth process handled by proprietary firmware in the POV.1 recorder and software installed on a PC from the included CD. After initial setup, users will be able to shoot video with a POV.1, review their work seconds later on the color LCD and within minutes make it available online to colleagues and friends via their personal computer. The system is so well designed and engineered that the hardware becomes transparent and the real point of POV video — the video — becomes higher quality and more enjoyable to create.
Giving V.I.O.'s sport, tactical, and professional customers the best possible product.
V.I.O. customers demand products featuring rock solid durability and ease of use to capture important POV video. Those users include the military operating under some of the toughest conditions around the globe, law enforcement, professional and amateur athletes, aviation experts, and the TV and movie production industry. Those who require high quality POV video without technological glitches trust V.I.O. After all, many V.I.O. customers can't afford to miss a single take with their video or may not be able to replicate a performance. In those situations, V.I.O. has earned its standing as industry leader.
High Quality Video from Advanced Technology
The POV.1 is the first V.I.O. product to use a new, advanced CMOS video sensor with a global electronic shutter. While the CMOS sensor offers the improved light handling capabilities of a higher, broader dynamic range, it also demands less power. As a result, the POV.1 can record hours of video on four AA batteries. Users can select from six resolutions ranging from 720x480 to 320x420 and frame rates of 30, 25, 24, or 15 fps. To help keep recording simple and at the highest possible quality, exposure control and white balance are automatically controlled. If this is sounding like a powerful system that needs coddling, think again.
Built Rugged. Driving rain will not affect the POV.1. Nor will immersion in water of up to one-meter depth. The system is also dustproof and shock-resistant. It is designed to survive falling from a desktop to the floor. A key contributor to the shock resistance is the use of flash memory for recording. The POV.1 uses SD cards up to 2GB, allowing the recording of about 80 minutes of high quality video on a single card. Operational temperature range for the recorder is from freezing to over 150° F. The camera head can withstand down to -40°F and up to 185°F. In either baking heat or freezing cold, users will appreciate the system's simple controls.
Intuitive Interface and the Power of Loop Mode Recording
When recording POV video, simplicity and ease of use become paramount concerns. A few intuitive buttons on the recorder and on the wireless remote control the POV.1. But it's what those buttons do that make the POV.1 shine. During normal recording, users can press the "tag" button to mark important sections for easy retrieval. The tags make it easy to locate key highlights and edit out non-essential or less entertaining material. Tagged sections also are protected against overwriting when using Loop Mode recording. Loop Mode captures video without saving it until the tag button it pressed. It then saves a user-adjustable length of video up to 30 minutes before and up to the tag point, allowing you to save what you just saw, after you saw it. Loop Mode recording helps maximize the capacity of SD cards while preventing the loss of important material.
All from V.I.O.
Perhaps the best feature of the POV.1 is its manufacturer. V.I.O. is the industry leader in POV video. V.I.O. offers the benefits of proven innovation in its products and highly responsive customer service. The POV.1 is the first V.I.O. product to deliver full video capabilities from capture to recording to cut-and-splice editing to video distribution. And as V.I.O. customers might expect, the product offers a new standard in POV video technology.