"Major improvements, a solid contestant in the sportcam market"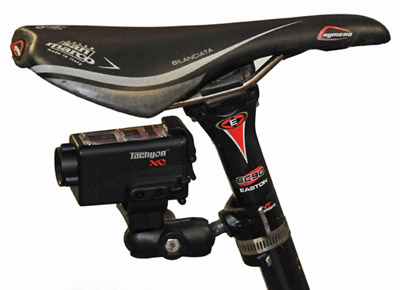 With a widened FOV to 90 degrees and some new mounting options the new 2010 Tachyon XC is a new cam altogether and is sure to heat up the sportcam market.
It's robust design and new 1/4 x 20 mounting option makes it a perfect candidate for securely mounting to almost anywhere. Pictured here (using 3rd party ball and socket mount) in my favorite use of this cam is behind my MT bike seat to video my buddies lagging behind ;-)
Pro's:
Much improved Field Of View (90 degrees)

Great price

Very sturdy unit

Good color/contrast

HUGE file storage capability (up to 32gb SDHC)

Nice audible record/stop beep

Waterproof to 34 feet

The rail system is much improved (seems to fit tighter) and the 1/4 x 20 threaded universal mount is awesome (but other mounting systems still need work).

Drag-n-drop AVI files (most applications - works well in Windows Movie Maker 2.6)

Has remote - (but it's on the large side)

3D video recording possible with the 3D kit

Great mostly biodegradable minimal packaging

Cons:

As mentioned above the rail system has improved but the other mounting systems still need work. With a simple addition of strap slots like I did HERE to their old universal mount they could make a 2-in-1 mount and get rid of the current helmet mount that I find reluctant to use because of it's high profile.

Record on/off button a little hard to feel and the time it takes to activate is too long.

Still a little on the heavy side.

Uses disposable batteries - go rechargeable lithium ion battery packs please!

Poor sound, almost unusable. On an editing side note, I use very little of the recorded sound anyway...
That's a wrap! Some sample video HERE
NOTE: Editing, rendering and posting of YouTube video reduces the quality, even still the
results are excellent, it will be even better when you watch it on your own TV or computer.
This cam has gone from so-so to one of my most favorites in the "standard resolution" cam category. The new FOV gives a great all around view, the price (currently on sale on their website for $150) and the new sturdy universal mount (combined with aftermarket mounting systems) all make this a very desirable package.
Speaking of packaging, I'll give them bonus points for "green" packaging - thank you.
On another note, this package appears to be getting better by getting smaller with the new XC Micro (to be review soon!)
Bottom line: Thumbs up!