"Self Contained" Sport Video Cams
Self contained cams are very intriguing. They are all trying to offer a simple, all in one solution. No wires, no tapes, just ease of use. What are the advantages and disadvantages to such systems? Each company has their own approach, and thus each will have it's strengths and weaknesses.
Below are some of the most popular "sport cams" in the industry today.


Hero GoPro, Oregon Scientific ATC5K, Tachyon XC and the VholdR
Let's start with a few spec's on these cams. This should help you at a glance:
Green is good, Red is not as I'd like.
Specifications

| | | | | |
| --- | --- | --- | --- | --- |
| | Hero GoPro (5mp) | Oregon Scientific ATC5K | Tachyon XC | VholdR |
| sug. retail price | $139-$199 | $219 | $150 | $329 |
| sensor size | 513x384 | 640x480/320x240 | 640x480/320x240 | 640x480 |
| video FPS | ? | 30 | 26/30 | 30 |
| FOV - degrees** | 54 or 170 | 53 | 50 | 90 - excellent |
| sound | yes, but see test | yes, but see test | yes, but see test | yes |
| still photo | yes | yes | yes | no |
| remote | no | yes | yes | no |
| different mounts? | yes | yes | yes - issues | yes |
| preview | no | yes | no | no |
| playback | no | yes | no | no |
| waterproof | yes - 100ft | yes - 10ft | yes - 28ft | no, but resistant |
| internal memory | 16mb | 32mb | no | no |
| add'l memory | SD up to 2GB | SD up to 4GB | SD & SDHC to 32GB | up to 2GB micro SD |
| battery | 2 x AAA | 2 x AA | 2 x AA | LiIon rechargeable |
| TV out port | yes | yes | yes | no |
| USB port | yes | yes | yes | yes |
| approx. size L"xW"xH" | 1.5x2.7x2 | 4.5x1.9x2.8 | 4x1.8x2.25 | 3.75x1.4x2 |
| weight w/bat's | 4.5oz | 7.6oz | 6.25oz | 4.4oz |
| interesting notes: | photo interval timer, | preview/playback monitor, | shock proof, | Rotate-able lens, |
| | good waterproofing, | lots of mounts included | robust housing | laser pointer for |
| | small size | | | alignment, slide |
| | | | | switch for record |
Performance
Hero GoPro (5mp)

Oregon Scientific ATC5K

Tachyon XC

VholdR

Image clarity

good

good

good

slightly soft

Color quality

very good

very good

very good

**under saturated

Contrast

good (+)

good

good

**fair (-)

Lighting compensation

very good

fair

fair

very good

Sound quality

*poor

fair (-)

*poor

very good

Mounting system(s)

good

fair (+) includes many!

needs work

fair

***Battery life

2hrs w/lithium

?

3.5/alk - 11.5 lithium

?

* With housings sealed the audio is poor, with housings open good to very good.

** Can be corrected in your video editing with satisfactory results.

*** As per Mfg
Field of view (FOV). I have found that between 80 and a 100 degree field of view (FOV) is the best for all around use. more than 120 degrees is really wide and less than 70 is pretty narrow, depending on your particular application (mine is usually MT biking, sailing or Kayaking).
Note: All these cams are CMOS chipped. For an explanation of CMOS chips vs. CCD chips go HERE.
First impressions
Hero GoPro: This is a tiny camera with some interesting features. The actual camera looks a bit delicate and the battery door a bit flimsy, but probably a moot point since it fit's inside a very cool waterproof (to a claimed 100 feet!) casing. The base model is a wrist strap set-up and they have expansion kits for many mounting options. They also have a 170 degree WIDE lens option (a comparison of the two later) and pretty sturdy mount system. The camera itself is tiny! It's square shape may not be as cool on top of a helmet but other aspects look to make up for that... like it works very nicely as a rear facing cam on the back of my seat.
Oregon Scientific ATC5K: This is the newest version of the ATC_K lineup and now sports a cool preview/playback monitor. This is great for getting things set up and knowing what you really are going to be recording. All other cams in this testing are "point and pray"... although the VholdR does have some laser pointers to help. This kit also comes inclusive of many different mounts and a nice small remote.
Tachyon XC: This cam looks tough and that is what the website tout's. Interesting layout with a very secure and waterproof rear closure hatch. The initial testing of the mounting system revealed a lot of play, which may end up being it's Achilles' heal... (I was notified shortly after posting this that they are working on a new helmet mount that will be supplied to all purchasing customers around Feb.) The AVI file format is nice drag-n-drop. It does have a remote, but I'm a bit puzzled as to why the remote is almost as big as the camera.
VholdR: This is new and interesting approach to a cam system. The most interesting are the rotating lens, slide on/off switch and rail mount system. It also has (in my opinion) the best field of view in this group (90 degrees), it is also light weight and fairly compact. The laser sighting system is a great ay to see where it's pointed - the more I use, the more I like. (This system can be seen strapped to the heads of sharks in the directors cut version of the first Austin Powers movie). I do foresee difficulties with said mounting system, not because of it's rail design, but the movement between the rail clip and Velcro mount base. (again, any movement is not good). Also, the overall physical quality seems a little "unfinished" and I'm not really fond of the slide on rear rubber hatch, but it works. Note: If you are using Windows Media Player you will need to download a codec to view your video, or install the VholdR software off their site. I used this codec HERE.
It's too bad that the "standard" field of view chosen by the manufacturers seems to be between 50 and 55 degrees. With this FOV camera shake is increased and the sense of your surroundings, including the feel of speed, is reduced. GoPro offers a 170 degree view, but that is on the other extreme. (comparison of the two later).
So much for the pleasantries... on with the testing!
Handlebar testing: My first round of testing was with handlebar mounts supplied by all the manufacturers. My above observations above were fairly on the mark on the mounts that had play in them. I have many, MANY hours of bike mounted video and the best mount is a totally rigid, non moving or flexing mount. Any flex cause a kind of "whiplash" effect which dramatically decreases the stability of the video... a solid mount works great even on my hard tail MT bike.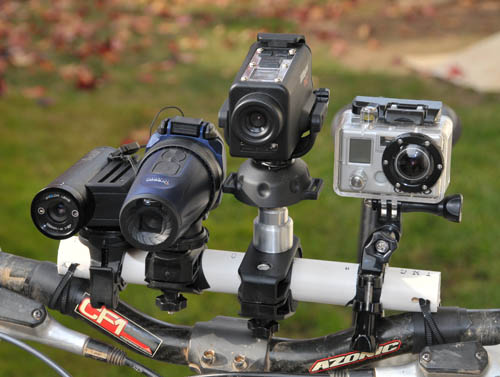 Testing four cams at the same time to get the same view.
In general all the cams produce a pretty good image. The VholdR cam has the best FOV (90 degrees), but the image is on the light, unsaturated side. (can be corrected somewhat in the editing process). All the other cams have much richer colors, but have a much too narrow FOV (in my opinion).
There are definitely some handlebar mount issues on the Tachyon and the ATC5K. The Hero GoPro and VholdR did much better, but I think all the mounts could definitely benefit if they were more solid.
Handlebar mount side-by-side test
The handlebar mount side by side test video is HERE.
As you may end up viewing these clips multiple times PLEASE right click and "save as" to your own computer and help save my band width!!!
Note: There is some break-up in the VholdR video - Please note this was MY software issue, not their unit! (I went back to the raw footage and it was fine).
I will do individual helmet mount tests shortly to get a more stable video sample, but this will give you a good idea of the color, clarity, Field Of View etc.
Lighting compensation test
Lighting compensation test video is HERE.
As you will see the GoPro and VholdR handle a dramatic light change pretty well. There is some slight "exposure flutter", but that is probably the trade off of being able to rapidly change to various lighting conditions. The VholdR is, as mentioned before is on the under-saturated and underexposed side all together. The ATC5K and Tachyon act very similarly to each other in that they take much longer to compensate for lighting changes and thus the sky gets blown out. Note that they do compensate and will give you a properly exposed image, it just takes longer.
Overall: In this particular test I think the GoPro is on top (although I wish the FOV was more like 90 degrees). It has rich colors, good contrast and handles the lighting changes. The VholdR with it's 90 degree FOV, less flutter and ability to handle the changes is a very strong second followed by the ATC5K and Tachyon. I do really like the richness of color on both the ATC5K and the Tachyon and that should not be discounted.
Audio testing
A note about sound: I have found that in reality I use very little of the original sound if I'm editing a short action film. For instance in mountain biking I'll use some of the original sound of people talking before the action starts and maybe interject a little here or there. The biggest problem with action sports and audio is wind noise, even with top end units and stand alone microphones. It is very difficult if not impossible to overcome wind noise, especially in these self contained units. An example of my typical editing style and the use of sound is HERE.
About these units. Making a unit waterproof and yet able to pick up any reasonable sound is apparently a tough cookie in a self contained unit**. Basically the non-waterproof VholdR easily wins the audio testing, the ATC5K had some sound and the GoPro and Tachyon were little more than muffled noises. (listen VERY closely, there IS audio, but just barely audible).
Just for comparison I popped the backs on the GoPro and Tachyon and then they sounded pretty good, the Tachyon the better of the two. Just a note, in the instructions of the GoPro they say you can remove the rubber o-ring off the back - thus it is no longer waterproof - and get better audio. I wondered the same about the Tachyon and I have inquired but it's o-ring looks a bit more permanent.
To hear what I'm talking about on these units go to the Audio test. (right click, save as)
My Camclusions:





Hero GoPro O.S. ATC5K Tachyon XC VholdR
Some example video (please right click and "save as")
Hero GoPro - rear facing seat mounted HERE
VholdR - Helmet mounted (Note the tweaking on the color and contrast in editing) HERE
ATC5K & Tachyon - helmet mounted comparison, short sample video HERE
I'm not going to "rate" these cameras per se and declare a "winner" (that is for YOU to decide) but will simply point out the pro's and con's of each unit as I've experience them thus far.
Hero GoPro - Pro's:
ATC5K - Pro's:
Tachyon XC - Pro's:
VholdR - Pro's:
The Bottom Line:
All the cams have issues here or there. I hope I have shed light on your ability to pick the cam that is right for you. We do not sell cams on this site but if you think you might purchase a cam we've reviewed or want additional information, please help by clicking on a Google ad to the right.
Thank you!