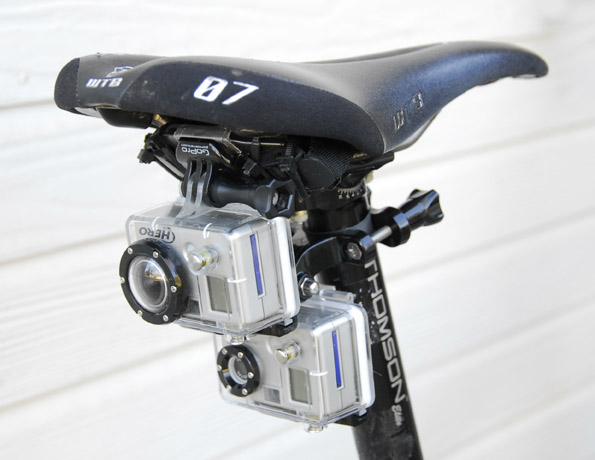 Testing both cam's at the same time
Field of view (FOV). I have found that between 80 and a 100 degree field of view (FOV) is the best for all around use. More than 120 degrees is really wide and less than 70 is pretty narrow depending on your particular application. The GoPro cams are on both sides of my preferred FOV, but one will undoubtedly work well enough for a given application.
For review, here are the spec's on this cam, only the FOV being different.

| | |
| --- | --- |
| | Hero GoPro (5mp) |
| sug. retail price | $139-$199 |
| sensor size | 513x384 |
| video FPS | ? |
| FOV - degrees | 54 or 170 |
| sound | yes, but see test |
| still photo | yes |
| remote | no |
| different mounts? | yes |
| preview | no |
| playback | no |
| waterproof | yes - 100ft |
| internal memory | 16mb |
| add'l memory | SD up to 2GB |
| battery | 2 x AAA |
| TV out port | yes |
| USB port | yes |
| approx. size L"xW"xH" | 1.5x2.7x2 |
| weight w/bat's | 4.5oz |
| interesting notes: | photo interval timer, |
| | good waterproofing, |
| | small size |


Here is a still shot from each showing a big difference in the FOV.
Standard left, wide right.
There are a few things that a narrow or wide FOV will do (or not do) for you. For example the wider the FOV, the more light the sensor can theoretically collect and should do better in lower light. A wider FOV will show a more stable image, a narrow FOV is like holding a telephoto lens and trying to hold it still.
Quick comparison:
Standard FOV - pro's:
More detail in image (of subject).

Subject does not disappear into the background so quickly.

Better for subjects 25 feet and further away.
Standard FOV - con's:
Image blurs more easily due to movement.

Subject must be further away or possible cropping will occur.

The feel of speed and surroundings gets lost.
Wide FOV - pro's:
More area included in image.

Shows the "feel" of the surroundings (like speed) better.

Best for subjects 5 to 15 feet away.
Wide FOV - con's:
Subject can disappear (get small) very quickly after about 20 feet away.

Image can look distorted.
The bottom line:
My preference after reviewing the video is definitely the wide. The narrow std FOV really makes it hard to keep the subject in view unless they are 20-30 feet away and the image seems much more unstable compared to the wide. Also, the sense of speed is really lost since you do not have much of a sense of the surrounding environment.
The wide however is really wide. The subject can disappear very quickly. It is great for close quarters and to show speed and the surroundings, but this 170 degree wide is a bit too wide. I consider a wide in the 120 degree range.
I now use the GoPro wide exclusively for my rear facing cam. (With instructions to my subject to stay within 15 feet). The shape and mounts of the GoPro lend it's self nicely to this task.
In my perfect world, the GoPro standard would be about 90 degrees and the "wide" about 120 degrees. Currently, if you have even a question, I'd go with the wide :-)