Self Contained Hi-Def Cams
March 2010
Self contained cams are very popular and now in great Hi-Def. They offer a simple, all in one solution in selectable resolutions up to 1080p Hi-Def. The two cams below, the ContourHD 1080p and the Hero GoPro HD, are top examples of what is currently available in today.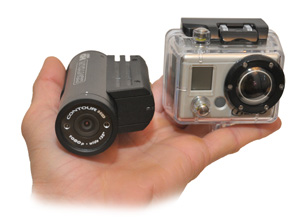 After we compare side by side
which one will you choose to buy...

Specification Comparison Chart
Some specifications taken
from mfg's website or product manual.
ContourHD 1080p
GoPro HD Helmet Hero
Suggested Retail Price
$329.99
$299.99
Included mounts
Goggle and flat surface, extra stickem pad
Vented helmet, headband, 2 flat surface, 2 curved surface, adjustable pivot arm, WP housing* with add'l open "audio" back, 2 quick release mounts
Included cables
USB

USB, HDTV and RCA

Software
Online download available

No

Lens/Field Of View (FOV)
110 deg. on 1080p, WVGA
135 deg. on 960p & 720p

127 deg. on 1080p
170 deg. on 960 & 720p

Adjustable camera settings
via software: Time, 4 video quality, audio gain, bit rate, contrast, exposure, sharpness, spot/center/avg. metering
via camera menu:
video settings
exposure metering
Video settings
1080p@30fps
960p "full frame"@30fps
720p@30 or 60fps
WVGA (848x480 @60fps)
1080p@30fps
960p "full frame"@30fps
720p@30 or 60fps
File Type/codec
QuickTime .MOV/H.264
MP4/H.264
Battery / included
rechargeable lithium - yes
rechargeable lithium - yes
Battery run time
3 hrs (as per Mfg.)
2.5 hours (as per Mfg.)
Internal memory
No
No
Memory Storage
MicroSD up to 16GB

SD up to 32GB

Memory included
Yes - 2GB
No
Still photos?
No
Yes - 5 mp, several modes
Digital zoom?
No
No
Remote or LANC
No
No
weight w/battery
4.4oz
6.3oz in wp case*, 3.5oz without
Size L x W x H
3.75" x 1.27" x 2.15"
1.6" x 2.77" x 2.5" (in case)
Weather resistance
"water resistant" Not WP without WP housing - NOT included
Yes, only with WP housing* (included)
Other notes:
Rotatable lens, dual laser sighting system Online video hosting/posting
*housing must be used for mounting of camera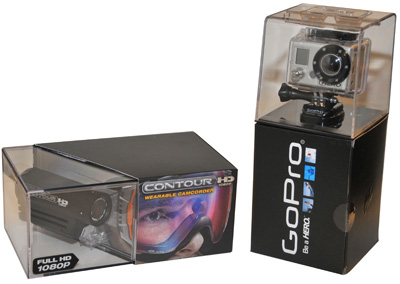 Out of the box. Both cams are packaged in a clear "Rubik's cube"... a puzzle to open and not the most eco friendly of packaging. This is cool clever marketing, but I'd rather see minimal packaging from both companies.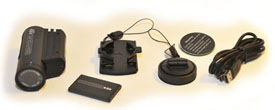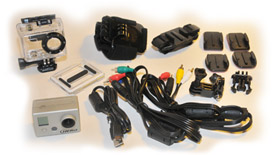 Packaging aside, the Contour once charged is ready to go, the GoPro will need a memory card.
Performance Information
| | | |
| --- | --- | --- |
| | ContourHD 1080p | Hero GoPro HD |
| Image sharpness | Overall good but soft in corners | Very Good |
| Image Clarity | good, but has some vertical lens flare when facing direct sunlight | Good, only occasional lens flare |
| Color quality | OK - cooler colors (settings adjustable) | Good - warmer colors |
| Contrast | Good (adjustable) | Good |
| Lighting compensation | Good | Good |
| Smoothness of video | Good - great frame grabs | Good - great frame grabs |
| Shock resistance (image) | OK, heavy shock/vibration causes some distortion | OK, heavy shock/vibration causes notable distortion |
| Sound quality | OK ++ | OK, but only with open back, poor to none if waterproof back is used. |
| Mounting system | Very good and many | Good and many |
| Ergonomics/shape | Good, back cover can come loose, very good record switch | Fair - buttons can be fiddly, modes can be changed accidentally |
| Battery life (mfg specs) | up to 3 hours | up to 2.5 hours |
Some test video is HERE
ContourHD - Pro's:
Great overall video quality.

Good mounting system with many options

Comes with battery and memory card

EZ one slide switch recording

Sophisticated software for changing cam settings

Wide angle lens - without much distortion

Light weight

Handles low light well

Rotatable lens - very handy!
ContourHD - Con's:
MOV File system not as software editing friendly

Packaging could be more eco-friendly

Access flap on back can be bumped loose reaching for record switch

Image color is a bit unsaturated and on the "cool" side
GoPro HD - Pro's:
MP4 video easier to edit

Great overall video quality

Good mounting system with many options (but some can be a little fragile and flexy)

Many record options (But be careful you might be shooting stills instead of video)

Wide angle lens - without much distortion
GoPro HD Con's:
Even though small, it's shape is "bulky"

Low light becomes a bit grainy (video clip coming)

Must use waterproof case for mounting system

Getting on the heavy side
Bottom Line:
Both cams are good ones and both have their particular pro's and con's. If pure video quality and ease of editing (file type) is your game, then I feel the GoPro has the edge, but it ergonomics and mounting are important then the Contour has it's advantages. Both cams could use some work in one way or another, as is the case most of these cams: no cam is perfect. I think you need to review all the info to make your choice. One thing is sure, either one will give you good results, I think your choice will depend on how and where you are going to use it.

Contour HD 1080p wish list:
Adjustable image saturation (like the contrast)

Work on shock proofing

Threaded front lens cover

Positive latch on back cover

Work on packaging (go green please!)
Hero GoProHD wish list:
Work on shock proofing

It would be nice if it were more aero/ergonomic (not a brick)

1/4 x 20 threaded mount in the camera AND case

More positive record button - it's easy to NOT be recording when you think you are

Work on packaging (go green please!)
Notes about AUDIO/SOUND
Even though I do not use much of my native audio from my cam shoots (I usually put in music instead), it's a big bonus to have it. It adds to the moment, a short chat at a break in the action with your friends or whatever. A few of these companies have opted for water-proofness over audio but I really hope they can find a way to do both!