Twenty20 OmniPixel2 CMOS chipped cam
The cost of this system is $250 retail. I was able to find it on sale for $199 at a local motorcycle shop. The most intriguing aspect of this system is that it has an OmniPixel2 CMOS chip instead of the industry "preference" of CCD chip. More on this on their website HERE.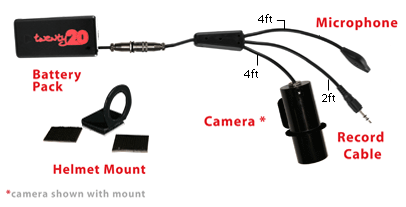 Special note: To have a similar field of view (FOV) of the other cams I tested I had to purchase a $30 wide angle lens, which in the current housing caused some corner cropping – more about this in the conclusion.
Here are the published specs:
Resolution:
Min. Illumination:
Temperature Range:
Battery Life:


656x492 (480 TV Lines)
<.01 Lux (Day and Night)
-40C to +105C degrees
16 to 20 hours
Pro:
Extremely good color and contrast most of the time.

New generation CMOS chip is now competitive with the CCD chips.

Very good overall wire harness layout.

Good audio quality.

Small battery pack.

Good alternative mounting bracket (As well as the regular 1/4x20 threaded).

Compact yet adequate consumer packaging (fairly environmentally friendly).
Con:
Has stability trouble in and out of bright situations.

Narrow field of view in stock camera.

Cannot use wider view lens on current housing without getting corner crop.

The image on both my cams was not horizontal to the 1/4x20 mount threads.

Metal connectors on wire harness can damage your paint.

The 3.5mm composite plug for the recorder needs to be a 90 degree instead of a straight - makes it hard to stow in your pack.

Threads on lens a bit sloppy allowing for play, which caused in and out of focus if not properly adjusted.

Indoor low light performance suffered… but I don't wear my helmet cam indoors!

Included instructions need work.
CONCLUSION:
VIDEO: (see test video top/right of this page) The Twenty20 cam had very good to great image quality (color, contrast brightness balance) most of the time throughout the spectrum of my testing conditions. The down side of this CMOS technology appears to be the trouble it has changing the aperture of the camera too quickly and too much going from different lighting situations. Also the image was a little soft in overcast conditions, but still good.
In most situations it's color saturation, contrast and brightness quality is as good as and some conditions even better than the Viosport, but it is that little bit here and there where the image is too bright and unsaturated (and that it changes too quickly from just right to too bright) that does not give this camera top honors. Maybe this is a firmware issue that can be modified in future production models? If so this new generation of CMOS cams will put the CCDs in the back seat. Yes, I am very interested and optimistic about this cam. I rate the video at 7+ to 8 most of the time… and an occasional 9! Indoors is where this cam suffers at a 5 or 5+... but I don't wear my helmet cam indoors much ;-) so this may be a moot point.
Oh, as I noted above I had to change out the stock lens to a wider angle lens just to have the same field of view as the other two cams "standard" field of view and the minimum field of view I would consider for a helmet cam. This presented a slight problem with corner cropping. This could be easily corrected by making the housing shorter in front of the lens.
AUDIO: The mic on this system is on a separate line allowing you to place it just about anywhere you like. The quality is good but I think the gain could be a bit more (louder). The wire harness is clean and simple and the way I would like to see all helmet cam harnesses. My only complaint is that the connectors on the wire harness are made of solid metal, which if not properly stowed or taped can damage surfaces.
IN SHORT:
This is a somewhat new company in this arena and the new generation CMOS technology should have the CCD boys worried. There are some technical and quality control issues that need to be sorted out but I am very optimistic that this technology may surpass CCD's in the very near future. I feel all these issues can be addressed and more importantly, this company seems to take feedback seriously and we could very well see some changes that would put this system on the top. This system: A GOOD BUY - however if you want the wider angle lens that is standard on other brands, add $30.
WHAT I WOULD CHANGE:
The rate at which the aperture changes and to what degree. (Firmware?)

The housing needs to have the chip horizontally aligned with the 1/4x20 threads.

The housing needs to be shorter in front of the lens allowing a wider angle lens without corner cropping.

Maybe coat the cable connectors with rubber?... or change connector type.

Add an LED on the battery pack so you know it's on at a glance.