Self Contained Micro Cams
Self contained cams are very popular now and getting better by the month. They offer a simple, all in one solution. No wires, no tapes, just ease of use. The two cams below are in a class I call "micro cams". There are more cams of this size out there, but these two seem to be the most popular "Micros" at the moment.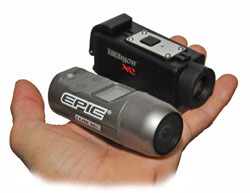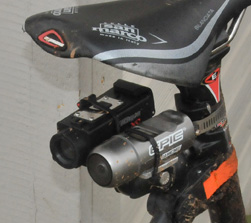 They both easily fit in the palm of your hand - on my bike double mounted for side by side testing.

Comparison chart
* Specifications taken
from mfg's website or product manual.
Epic Stealth Wide
Tachyon XC Micro
Price
$209.99
$129.99
Included Accessories
WP housing, helmet , "elbow" and 2 contoured surface mounts
Universal helmet/goggle mount
FOV

168 degrees

90 degrees

Best video setting

640 x 480 @ 30 fps

640 x 480 @ 30 fps

File Type/codec
AVI/MJPG
AVI/MJPG
weight w/battery
2.5 oz (4.2 oz w/WP housing)
3.7 oz
Battery / included?
AAA - Lithium recommended / Yes
AAA - Lithium recommended / No
Internal memory?
No
No
Memory Storage

2 to 4GB SD cards

4 to 32GB Micro SDHC cards

Memory included
2GB SD card
No
Still photos?
Yes - several options
Yes - in time lapse mode
Digital zoom?
Yes
No
Remote or LANC?
No
No
Waterproof?
Not without WP housing
Yes - 34 feet
Out of the box. Both cams are packaged very nicely in minimal cardboard packaging without a lot of "fluff" so I would give them both the green thumbs up for that. The Epic currently comes with more mounts than the Tachyon. Both have cables to connect to your computer and Tachyon has an additional cable to plug into your TV for viewing your video.
Cam set up and mounting. For testing or making my own videos I often make my own mounts, as this seems to be a bit of a weak area in the "sport cam" industry. For this test I made a side by side platform and installed a ball joint from RAM mounts. This way I can position the cameras in whatever orientation I wish. In this case, side by side off the back of my mountain bike seat post. Additionally, the more SOLID you can mount a camera, the more stable your video will be. Actually, I only run a helmet mounted cam if I'm going to be doing a fair amount of panning shots or need a detached camera.
Shooting video. The Tachyon has gone to simple with a single button for on/record and off. This simple approach I feel is great, it keeps you from accidentally being in the wrong mode or erasing files etc. If you want to change the mode you will need to open the back and flip a small switch. The Epic has two buttons and has a fairly sophisticated range of options. In both you really need to pay attention and learn what each beep sound means. (I wish there were an industry standard for record and stop, power on and power off beeps!).
Performance
| | | |
| --- | --- | --- |
| | Epic Wide | Tachyon Micro |
| Image Clarity | fair | very good |
| Color quality | fair | very good |
| Contrast | fair | good |
| Lighting compensation | fair (flicker is evident) | good |
| Smoothness of video | fair | very good |
| Sound quality | OK, but poor inside WP housing | poor (waterproof design) |
| Mounting system | good | fair |
| Battery life | no data yet | no data yet |
Epic Stealth Wide - Pro's:
Sleek compact design

Good mounting system with many options

Comes with batteries and memory card

Waterproof housing included (but lens scratches easily)

Sophisticated menu and options (If you like that)

Wide 168 degree lens - if you like wide and don't mind a bit of distortion

Light weight (out of the waterproof case)
Epic Stealth Wide - Con's:
Generally disappointing video image

Price is high for this quality of video

A little flimsy on the build side, like the battery door compartment

4GB SD max memory storage? (needs to be verified)

Does not handle low light very well

Uses expensive disposable batteries
Tachyon XC Micro - Pro's:
Excellent video - color, contrast, smoothness, sharpness etc.

The price is nice

Very rugged design (claims to be shock-proof)

Waterproof to 34 feet

EZ one button operation with LED verification

Large memory storage capability (up to 32GB)

90 degree field of view - just about right for all around shooting
Tachyon XC Micro Con's:
Mounting system - only comes with one mount and that mount makes it's size 15% bigger

Sound - basically unusable, granted it's a waterproof cam as is

A little on the heavy side, but it's built TOUGH

Uses expensive disposable batteries
Bottom Line:
There are a few wishes for both cams but as far as the actual video goes these two test videos pretty much tells all. Sunny bright conditions example HERE and cloudy overcast example HERE. This HelmetCamReview shootout has a clear winner in my book: The Tachyon XC Micro. It's superior video quality and great price will be sure to sell many of these units. They just need to work on their mounting system and they will have a real winner at a bargain price. Thumbs up and good job Tachyon.
Tachyon XC Micro wish list:
Move LED indicator to front of camera, or add another one.

Maybe a 120-130 degree model for close up action (like surfing or sailing).

1/4 x 20 threaded mount, bar/tube mount and vented helmet mount.

Rechargeable LiIon battery pack
Epic Stealth Wide wish list:
Improve overall video quality

Add record/standby LED to front of camera

1/4 x 20 threaded mount

Include spare plastic lens cover for waterproof housing - or go to glass?

Rechargeable LiIon battery pack
Other notes and wishes:
One thing that happens with all these self contained cams (except the VholdR cams with their positive sliding switch) is that occasionally you are going to miss video because you are in the wrong mode or the cam isn't even on. If you mount the cam on your helmet or any distance away from your own eyes you are dependant on hearing beeps or feeling buttons. On the tests above I missed video with both cams and a bit more so with the Epic (It's two button operation is more difficult when going by feel/hearing). I would love to see a two way wireless (or wired, yes wired) control button with LED, in other words a LANC control. This would allow remote positioning of the cam with a positive way to make sure the cam is recording. Not a remote mind you, a remote cannot tell you it the cam is actually on. You need something with feedback, hence the LANC.
Threaded lens mount. The addition of threads on the lens area would allow for addition of lens covers, wide angle lens attachments and filters, or even another way to mount the camera.
External audio plug in. Wow, if one of these cam companies could figure out a waterproof plug in for an external microphone that would open up a lot of possibilities!
General notes about MOUNTING SYSTEMS
Almost all cams in this category have mounting issues, none is perfect. I tend to make my own using RAM mounts. The exception is the vented helmet mount, of which VholdR, Epic and others have gotten about right: A snug mount on two adjustable straps. Before VholdR made theirs, I made my own HERE. Don't be afraid to be creative and make your own mounts! Remember YOUR point of view might me a little more interesting!
Notes about AUDIO/SOUND
Even though I do not use much of my native audio from my cam shoots (I usually put in music instead), it's a big bonus to have it. It adds to the moment, a short chat at a break in the action with your friends or whatever. A few of these companies have opted for water-proofness over audio but I really hope they can find a way to do both!