Viosport Adventure Cam 3

Note: This sport cam was discontinued by Viosport in 2008 in favor of their POV-1 unit... leaving a huge hole in the price point of their cam systems... but you can still find them used on the web if you search.
This system has had yet another price drop and is now $279 retail. (This is a price drop from $329 back in November of 2006). This is a very popular system and a lot of marketing has gone into the Viosport line. It is viewed by many to be the "benchmark" of helmet cams, we will test it and see.
Here are the spec's:
| | |
| --- | --- |
| Resolution | 520 TV Lines |
| CCD Chip | Sony Ex-View® 1/3" |
| Lens | 3.6mm |
| Field Of View | 72.5 degrees |
| Light Sensitivity | 0.2 Lux F 2.0 |
| Power Supply | 12 VDC (+/- 10%) |
| Power Consumption | 1.2 W (+/- 10%) |
| Weight | 105 g |
| Dimensions | 23 mm (Ø) x 80 mm (L) |
| H x V (pixels) | NTSC: 811 x 508 PAL: 752 x 582 |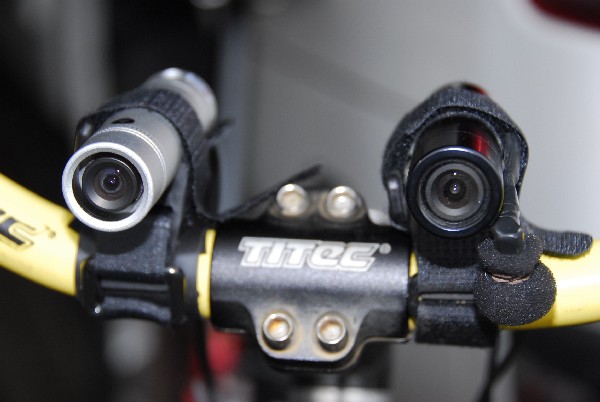 The Viosport is on the left.
Pro:
Very good overall color saturation and contrast in most conditions.

Extremely good documentation with excellent online and phone tech support.
Very "stable" video quality in and out of bright/overcast situations.

Lots of available accessory lenses and mounting devices.
Con:
Semi-proprietary cable plugs.

Cannot buy cams separately, just the whole system. (What happens if you break a cam??!)

Color saturation could be a little bit better.

Packaging is overkill – looks nice but environmentally a minus.
Wire harness prevents good microphone placement.

Sound quality is poor. Audio test is HERE

Coil cord cable is a pain and adds weight and bulk.
CONCLUSION:
VIDEO: The Viosport has very good image quality most of the time throughout the spectrum of testing: Cloudy day, bright sunlight and somewhat indoors. When I say best overall, I mean that it had the best color, contrast and brightness stability under most conditions, even when going from light to dark situations, like in and out of treed areas..
When using helmet cams you go in and out of sunny conditions, through shade, back into sunlight, clouds cause shadows etc. The ability of a camera to change with the conditions and maintain correct color, contrast and brightness is what I call "video quality stability". Each cam seems to have its good areas and bad in these changing conditions but overall, this is the best unit tested thus far. For overall video quality a solid 8++, with about a 7 for indoors. As of 8/1/07 this is still one of my top cams.
AUDIO: This is probably the biggest draw back to this system. In an effort to "streamline" their system and reduce stray wires (like to a separate microphone) they have integrated the microphone into the "Y" cable that plugs into the cable that comes from the cam. In theory this might sound OK, but reality in my opinion is otherwise. The cam has 30" of "newly designed" cable with two 4" sections of inline coil cable for strain relief then you plug into a Y cable with the integrated mic, which is only 8" from the plug in for the recording device and battery pack. HERE is a photo of the wire harness and system layout.
So if you are following me that means there is three feet of cable between the cam and the mic and then only 8" before your camcorder. So if you want to have the mic near your mouth and have the camera on your helmet forget it. I ordered the cable extension cord thinking that would help... this only served to add 3 more feet between the cam and the mic - ugh the mic was still only 8" from the camcorder and battery pack. I felt this setup was a rather poor solution to "streamlining" the wire harness. Check out the audio test HERE.
For an upper end system with the excellent support, documentation, packaging and overall video quality, the microphone/wire harness situation needs to be re-thought. The coil cords just add weight to your head and bulk to the system.
In Brief:
If you want good video and do not care about audio the Viosport is a very good cam. You can always modify the wire system (and void the warranty) to add a separate microphone... or if your camcorder has a microphone feature, maybe use that (this is what was suggested to me by the Viosport Tech).
WHAT I WOULD CHANGE:
Make the cam have a short pigtail with connector and rid this system of coil cords.

Have the harness similar to Xtreme Recall's.

Better microphone - or at least locate it closer to the cam - maybe 6"-10" away?

OR an entirely separate line for the microphone (my preference). Maybe even with a plug to make it removable.
NOTE: I recently had the wire harness on my Viosport modified by Xtreme recall. Very nice!... now I have excellent video and excellent sound!