NOTE: Xtreme Recall is no longer in business.... for reference only :-)
This is Xtreme Recall's waterproof system for your compact mini DVD. High quality versatile design - sweet!
It should be noted that this system is a prototype. This is the first unit made public with their new generation wire harness and ultra compact #1050 Pelican camcorder housing. This is also more of a straight review, not a comparison... but you can compare cam to cam with the Viosport HERE.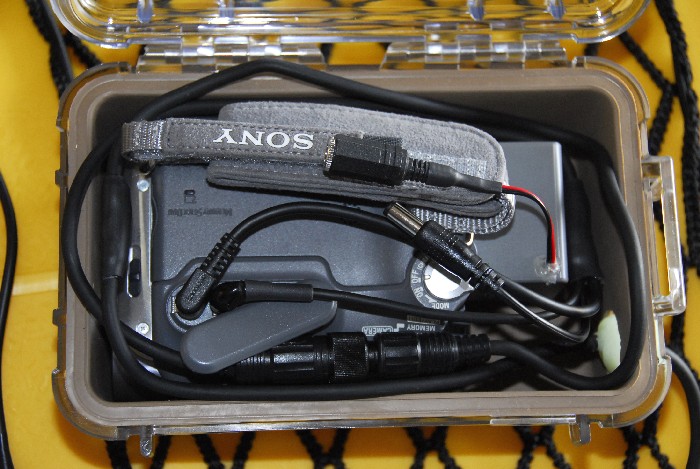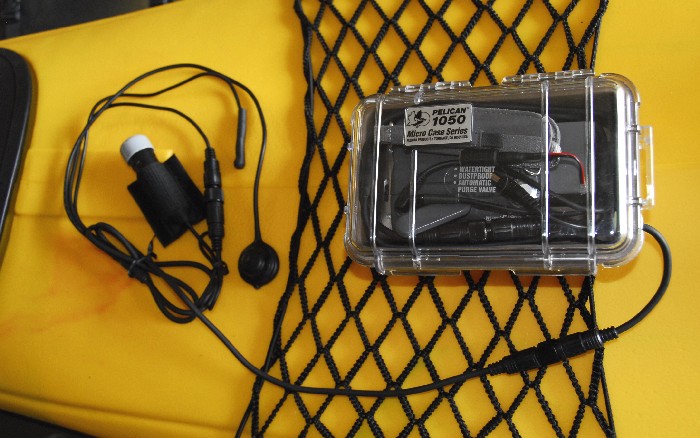 In a nutshell, or rather a cool small Pelican hard case, this is undoubtedly the most compact high quality waterproof (mini DV tape) system out there. The new 7.5" x 5" x 3" #1050 Pelican case will accommodate a Sony HC32 or with a little work also the Sony PC109. The other (regular issue) waterproof case is a Pelican case nearly twice it's size.
The enclosure is sweet, only one wire (cable) exiting this little box. That one cable branches out to do everything! Via awesome waterproof connectors this single cable goes to the LANC remote control, microphone and CAM (all waterproof).
The waterproof connectors are great and allow you to add an "extension cord" to the CAM if needed. Inside the enclosure the cable again branches out to your LANC plug, A/V plug and CAM battery source.
Another nice item in this system is an optional modified battery for your Sony camcorder. It has a power output pigtail on it so it doubles as the power source for the CAM... NICE! This eliminates a battery pack inside the enclosure (although there is enough room for a separate battery pack should you want/need one).
OK, now the CAM. You can get the Sony chipped 3rd generation 580 line or the 480 line camera. I used the 580 line cam for my tests.
I have used this system while paddling for 2 weeks in Baja under various conditions, the entire time it was strapped to the exterior of the boat and also white water rafting. HERE is a white water rafting video clip of me getting tossed into the Clark River in Montana during some the rapids... fun stuff and I'm glad that I got it on tape :-)
Thus far the system has worked flawlessly, no leaks, no worries even after floating down a river with my camcorder 2 feet under the water! If you need a waterproof system, check this one out!
Here are the published specs of the 580 unit:
Perplex shatter resistant front lens (not glass)

Optical anti-scratch coating on front of lens

Vacuum sealed for anti-fogging

Polycarbonate "quick-disconnect" (submergible)

6v - 15v, the widest power band in the world

Reinforced Internal components (improved shock limit)

1/3" Sony ExView imager

Superb low light performance (.5 Lux)

Built in UV filtering

Waterproof (submergible)

Reverse polarity protection

Low reflection Black color body (not silver)

Highest resolution in the smallest size/weight available: 21mm Diameter, 78mm (3 inch) long.
The good:
Very compact waterproof camcorder case.

Excellent wire harness build and layout.

Extremely good color and contrast most of the time. See comparison HERE.

Quick connectors in the right locations.

Overall excellent quality and thought of design.

Hey, it's waterproof!
So-so:
Interior camcorder cables just a tad long (remember, this is a prototype) and made for a little too much interior bulk.

No exterior on/off switch for the CAM battery source - but my battery did last over 4 hours!

Microphone cable could be a bit longer - same length as cam cable?

Cost? well, you get what you pay for, want the best? Get this one!
CONCLUSION:
This is a great system. Having a waterproof system is going to open up a whole new realm for me... I'll now be able to get video of all those water sports that I was previously afraid to try.