*Update and re-test on this product 5/09/07 - bottom of page.
The cost of this system is anywhere from $175 to $129, even better if you search. The "big deal" about this cam is the small package, no wires and all in the palm of your hand. This system does have included audio (kind of). It also claims to be waterproof to 10 feet. I should also mention this is a CMOS chipped unit. I tested this unit at it's highest resolution at 30 fps.
Here is the unit and the published spec's: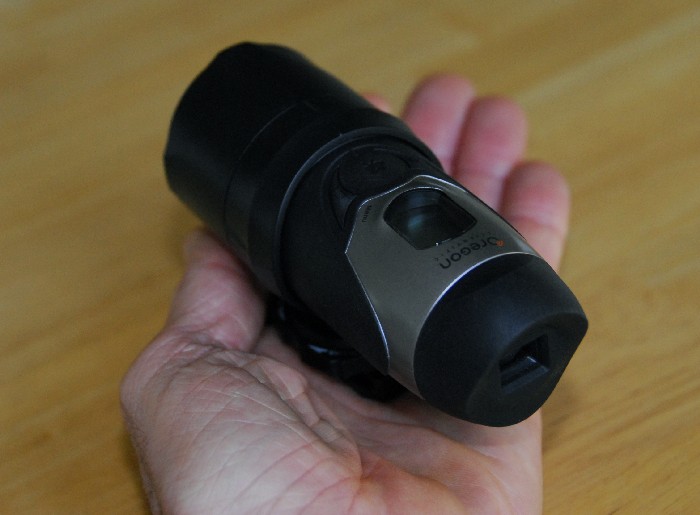 Full-function, hands-free, digital recording

Waterproof up to 3 meters and shock-resistant for extreme conditions

Mounts easily on helmets, handlebars, and other sports equipment

640 x 480 VGA resolution at 30 frames per second

USB and RCA cables included for easy playback on PC or TV (NTSC)

SD card expansion up to 2GB – onboard memory is 32MB

Operates with 2 AA batteries, not included

Dimensions: 4.25L x 1.75D x 2.25H (in.)
The good:
Concept and design (all inclusive - no wires) is intriguing and looks promising.

Files drag and drop right onto you computer and into editing without conversion.

Waterproof wireless construction makes this in a class by it's self.

Color on bright sunny days is good.

Handle bar mount works well.

Inexpensive unit for all inclusive video system.
The Bad:
SD card kept coming loose and shutting the unit off. ** they sent me a new unit and it's card did not come loose - so it appears that this has been corrected.

Jittery video (is it really 30 frames per second?)

Color, contrast only so-so on cloudy days.

Overall video quality far below what I hoped for.

The audio is muffled, probably because of the waterproof casing.

The field of view (FOV) is too narrow (70-75 degrees?) - like "tunnel vision" and adds to motion blur.

Focus? It seems like the image is extremely "soft" or out of focus.

The other mounting devices need work - no 1/4x20 threads to mount on conventional mount.
The Ugly:
Did I mention the jittery video?

Did I mention the wavy video?
Conclusion:
This is an interesting concept and it did get my attention at first. I was optimistic about this unit but unfortunately I felt let down. Since my overall best cam so far was the Viosport, I put it up against that unit, although I think just watching the video of the ATC2K by it's self will tell you enough. I had a really hard time believing it was 30 FPS the video should have been smoother. Maybe this is a firmware and chip issue that could be resolved?
I also tried the cam on both my road bike and MT bike. On both bikes the SD card kept coming loose and shutting the unit off. The video still had the "jitters" even on my road bike. Additionally the road bike the vibration actually made the video "wavy" which I have seen before in lower end CMOS chipped cameras. On the contrary, the Twenty20 helmet CMOS chipped cam showed no signs of this what so ever, verifying the OmniPixel2 CMOS chips are vastly superior.
I had hopes for this unit, but it fell short in my opinion. I think that mounting the cam on your helmet may do better (less vibration), but I feel this cam is only a basic value. I'm sure we will see video of a lot more things that we would not normally have seen just because of the price point these cam's. They will be out there in use. Purchase this cam if you have a very low budget and simply cannot afford anything else.
What I Would Change:
Fix SD card slot so the card stays put.

Use higher grade CMOS chip.

Fix the jittery video.

Work on the helmet and other strap mounts.

Add 1/4x20 threaded mount
Update: 05/09/07:
Upon my re-test I found that really the only thing that seemed improved was that the SD card seemed to stay put. It did not come loose during my test, which was on my road bike. I did not test it on my MT bike. The main thing about this cam is that the video is jittery. Additionally vibrations still make it wavy.
New conclusion: Basically with the exception of the SD card now staying put, my review above stands. This unit could be a nice package. The concept is great, but it still falls short of the mark. To me price does not matter if the video is not enjoyable to watch.