NOTE: Updates to this review are at the bottom of this page.
For a side by side comparison of the Vio's POV1 and Vio's AC3 go HERE
This is V.I.O.'s POV1 all inclusive cam system. This sleek system will change the direction of cam systems. Will it hold up to the rigors of out testing? Read on...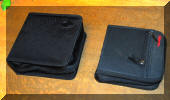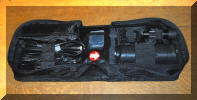 Out of the box the carry case is barely larger than a CD holder case. Opened up
you see it's a very functional place to stash all the needed parts for the system.
In your hand the recording monitor is not small... but not too large either.

This is how I mounted the system for my first test:
On my full suspension Ventana in an Inertia Designs triangle frame bag. Note the rear facing cam. I always run a fender on a rear facing cam, just for dust or that one lone mud puddle that will spot your lens.



Nestled in the frame bag with plenty of room to spare, like for extra batteries or food bar (people battery!).


The kit comes with a universal mount, it even had 1/4 x 20 threads
in it. This made it very easy for me to use my RAM MOUNT system
on my seat post. Note the nice lens cover on the CMOS chipped cam.


Ah, the wireless remote control, very nice touch to this system and easy to use. I carved a small foam block to fit my stem and then used the supplied velcro strap to secure it. Nice, clean set-up. When I have more time I'll make a mount and then mount it on the handlebar next to my shifter.
Here is a stock photo of the whole system: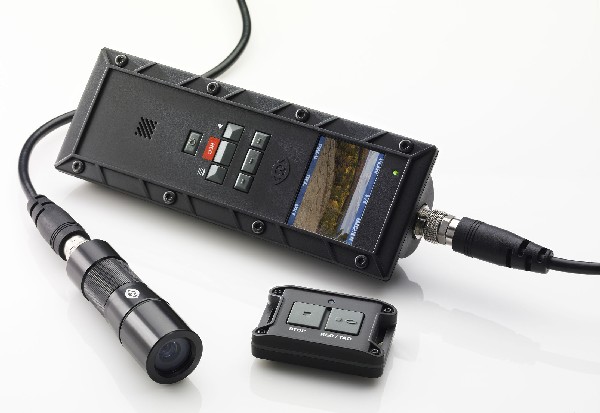 The concept of this system is great. The monitor screen doubles as an interface so you can select different settings. Easy to navigate - simple.
The single (8 pin?!) cable connects to the cam. The remote is wireless.
This is a very clean set-up.
All of the parts are neatly stored in it's case. Very nice to have a place to put it when not in use. My other systems tend to be stored in a cardboard box. It only took me a few minutes and one glance at the fast start instructions to get the system going.
I did note that the waterproof compartment for the SD card was pretty much impossible to remove without the aide of a paperclip or small screwdriver. You just can't get your fingers to grip it well enough to pull it out. A small annoyance but I figured if it keeps the unit streamlined and waterproof, then no biggy. Note: See update about this at the bottom of the page.
The battery compartment, although a bit snug, can be had easy enough by hand. The cable is marked on the camera end and the fitting pretty foolproof.
Once all is hooked up and the 4 AA batteries installed just press the power button once and the unit comes on giving you a view of whatever the cam is looking at.
Before we start recording....
Before I get on with any test samples, let's take a look at this system. The base unit is an all in one monitor and recorder. It uses 4 AA batteries and records directly to an SD card. A 1GB card came supplied with mine, as did one set of AA alkaline batteries. AA's are a plus since they can be had anywhere in the world. Instant playback - skip to the clip you want and review or delete, again, nice.
The first thing I noted right off was the fact that the built in microphone was again inline on the cable that runs to the base unit. In the Viosport Adventure Cam 3 review I had been very critical of the inline microphone that was 3 feet from the cam... in this case it is 2 feet from the cam. There is however a place to plug in a separate mic... but the port is under the waterproof SD card cover leaving the unit no longer water tolerant and exposing the SD card and slot to the elements.
Next, this is a CMOS chipped camera, not the CCD chipped type Viosport has used in the past. CMOS technology is on the rise but has notoriously given less than desirable results in "helmet cam" applications, especially in low light and/or having a "soft" picture. Only testing will tell us how this unit will do.
One note: VIO now has the cam cable attach directly to the cam, no pig-tail. Very nice. Now I can leave my cam on my "camera helmet" without all the wires that usually have to be there too. You can check out the full cam info HERE.
Testing, Testing - One, Two, Three....
For my first test I mounted the cam on my MT bike seat post (pointed backwards) with the included universal helmet/bar mount and my sturdy RAM MOUNT adjustable ball and socket set-up. This gives me a good view of peoples faces, not butts when riding. I mounted the wireless remote on the stem for easy access.
I did my first test during our local MT bike race series, the largest of its kind in California so I lots of test subjects. I did a full 40 minutes of video. I must say I really like the wireless remote, however since there is no uplink info from the recording device you have to be sure to get the buttons presses properly. I found myself hitting the stop button a few times just to make sure and holding the ON button just slightly longer than probably needed. I only forgot to turn it off once, leading to about 8 minutes of useless video. Although I really like the "wireless LANC" concept the lack of power on/off functions and feed back (is it recording or not??) make it a little trickier to use than your standard LANC.
The video: Firstly, I made sure I had it set up on 30fps and at it's highest resolution. Even so the video is, well a little jittery - some call this effect clipping or stutter. I viewed and compared the raw files several times in Windows Media Player and it seems like there is a capture rate issue. I'm not talking about bumpy because of the trails I was riding. It's like it is recording at 20fps, not 30fps. This is similar to other recording devices I've tried that record onto a memory card. I do not believe that this issue has been completely resolved within the industry and this unit is not immune. Is the video bad? No, it just not buttery smooth like you get from digital mini DV tape cams. One big plus for this unit is that I was on a mountain bike on bumpy trails and I had NO drop outs. When I record on mini DV I almost always get a drop out here or there.
Camera clarity/color: As with other CMOS cams the colors are as good/better than CCD cams I've used in most lighting situations. This cam does surprisingly well in low light conditions. The image is however "soft" compared to CCD cams. I checked the focus and that was not the issue, the sharpness could use some improvement here. The field of view is also on the narrow side, I always prefer a wider angle than a narrow view.
DVD quality? What does that mean really? I can make a good or bad DVD just on the settings I use. Does this unit make a good quality (home) DVD - in short, yes. Will it make you a noted film producer, probably not. The test DVD I made was actually good, except for the slight jitters mentioned above.
HERE is a sample video clip. I rendered this file on medium (variable bit-rate) so the actual video would be better but the file would be huge. PLEASE right click and download, then view if you are going to view more than once... please help me conserve my bandwidth.
The Audio: The microphone position again is an issue with me. I like sound, even if you don't use all (or any) of it during your final production it is good for reference. The microphone does a very reasonable job, but because the mic is 2 feet from the cam is hard to get the sound you want recorded. I think that it should be possible to have accessory cables with the mic in different locations... like within a few inches of the cam would be my preference.
I did a test with a plug in mic and it did very well, but as I mentioned earlier I don't like the fact that the SD card and all ports are now open to the elements when using an optional mic. I spoke with V.I.O. about this and I suggested an audio pass through waterproof cap could be devised. They said maybe this could be a future optional accessory.
VIDEO EDITING: Well, I tell you, I really like the ability to drag-n-drop my files right into my video editing software. This is a huge time saver. I was able to pull the files straight into my Roxio program no problem... but strangely I was unable to pull them into my Adobe Premiere Pro (2.0 version) program - it apparently did not like the audio encoding and rejected the whole file - big bummer. In my Roxio program I was able to make a short "movie" in about 1/2 the time it would take me in mini DV just because of the saved download time. Nice. Even nicer as they get the software compatibility issues resolved.
Software: The unit came with it's own software that I installed tried for a bit and then removed because my computer seemed to have some issues with it. I will re-install and try it again later as I have the time and patience. I did use it enough to see it is a somewhat limited and simple program, about enough to show your clips on the internet. I am going to assume they will continue to improve their package in this area.
My CamClusion:
OVERALL: I think this system is very unique, has an awesome user interface and will change the way systems are developed in the future. The ease of use, "clean-ness" of the system and the over all concept are the best features. The video jitters and the lack of camera sharpness bump this otherwise awesome system down. I'm slightly less than neutral on the wireless remote because of the lack of feedback (you really don't know for sure if it's recording or on standby). At $850 retail I think this will bust most pocket books. For a cam in this price range I rate this as a 7 out of 10. I do not feel this unit is the "Holy Grail" of helmet cams but if they can sharpen the camera, get a larger field of view and get the jitters/stutters worked out it would be awesome. There is really no other unit like this out there at the present time. I will continue to test the unit and report on any relevant improvements put out by VIO. I am hoping that some firmware/software updates will cure some of these issues.
UPDATES:
11/01/07 On my side by side test of the POV1 I went to remove the SD card cover by pulling on the little retaining screw and it pulled right through the cover... oops! This does not compromise the waterproofness, but now the little retaining screw is no longer captive and will probably get lost. There is really no good way to pull this cover off other than just a nudge with a coin or paperclip... you just can't get your fingers around it :-( I contacted VIO and they said this has happened a few times to others and are sending me out a new one - nice customer support :-)
Edited note about battery life: I'm using Sanyo NiMh 2700mah rechargables and just recently got 4.25 hours of "standby with over an hour of captured clips. This is definitely acceptable battery life in this unit. These Sanyo's are definitely the ticket. Note: I do NOT use throw away batteries EVER. (Go green as you can eh?)
11/07/07 I got an email back from the great customer service at VIO and they sent me a codec for my file reading issues which I downloaded and installed. This has corrected my file reading issues mentioned above... SWEET now I can drag n drop my files directly into my Adobe video editing program. The codec VIO sent me also corrected the problem with my Windows Media Player as well.